Unveiling Ezee's Puff Bar Flavours: A Symphony for the Senses
In the vast universe of vaping, finding the perfect puff bar flavour can be a journey. But with Ezee Puff+, that journey becomes a delightful adventure. Tailored for those who have a penchant for taste, our range of puff bars is a testament to over a decade of dedicated craftsmanship and innovation in the vaping sector.
Embark on a Flavourful Journey with Ezee Puff+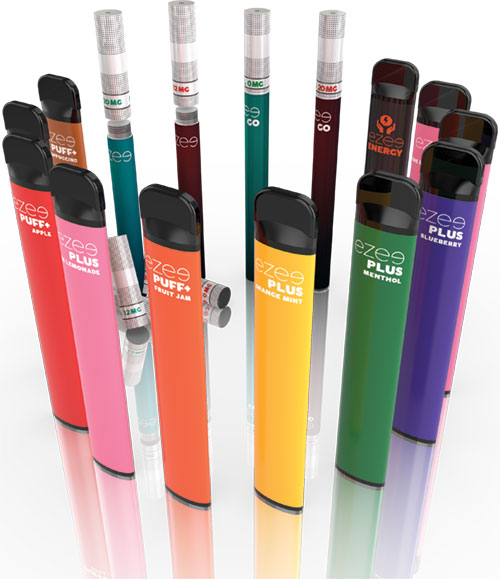 Each Ezee Puff+ bar is a flavourful masterpiece containing 2 mg of e-liquid, guaranteeing around 600 memorable puffs. The range showcases a bevy of tantalising fruity notes: Pink Lemonade's refreshing zest, the sweet allure of Fruit Jam, the vibrant punch of Orange Mint, the lush richness of Blueberry, the crisp essence of Apple, and the soothing, aromatic embrace of Cappuccino. And for those who lean towards timeless classics, our Tobacco and Menthol flavours offer a sense of comforting familiarity, capturing the essence of traditional cigarettes without the associated hazards.
A Decade of Passion and Precision
Our journey in the vaping world spans more than ten years, and every moment has been about refining our products to perfection. We take pride in our commitment to ensuring that each flavour we offer bears a refined and delicate taste. Especially for those transitioning from smoking, our puff bars provide a taste remarkably similar to ordinary cigarettes, making the switch smoother and more enjoyable.
Ezee Go: Classic Elegance in a Puff Bar
For those who cherish the classic design and feel of a cigarette, our Ezee Go range is a revelation. Crafted with the adult smoker in mind, it seamlessly combines the familiar with the innovative. As the name suggests, it's an impeccable companion for those constantly on the move. Whether you're a fan of the rich Tobacco or the cool Menthol, Ezee Go promises an unparalleled vaping experience. And with options of zero, 12, or 20 mg of nicotine, it caters to every preference with precision.